Our studio is a place of relaxation & transformation
About Us
A place where precision meets perfection. Lashes and brows play a fundamental role in the expression of a woman's allure. Let our mastery and artistry enhance your natural beauty and poise. Be YOU, but with beautiful lashes and brows!

At OSF & Brows our stylists are masters of beauty and skill. Each stylist is certified and insured with over a thousand hours of work experience. Education and growth never ends and that's why our staff will always be one step ahead of the rest.
Lash Extensions
We have a full selection of styles. these include: Classic, 2D Volume, Partial Russian Volume, & Full Russian Volume.
Microblading
We provide two styles of Microblading: Cashmere Brows & Classic Brows.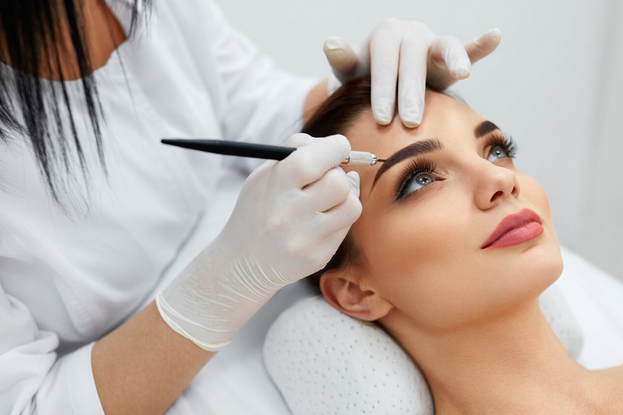 It's ok to be obsessed with beautiful brows
Henna Brows: Henna brows are a form of eyebrow tinting that is used to stain the skin beneath the brow hairs as well as the brow hairs. Henna is a perfect way to achieve beautiful full eyebrows, because the henna stays on the skin for up to 2 weeks and on the eyebrow hairs for up to 6 weeks. Each service includes an exfoliation of the eyebrows to prep the skin for maximum pigment deposit. Cost $35
Henna with Shaping: Precise shaping along with henna application. Cost $45
Brow Tint: Tint is applied to the brow hairs which will add rich color to your brow hairs. Cost $20
Brow Tint with Shaping: Precise shaping along with tint application. Cost $38
We Also offer waxing of the lip, chin, & full face.
Make-Up
Make-Up services catering to all demographics. Mobile services offered. Lash Friendly application.
Body Waxing
we can take care of all your waxing needs.
APPOINTMENTS with a LICENSED ESTHETICIAN & WAXING SPECIALIST now AVAILABLE 5 Days a week.
Lash Training
Learn to create fabulous lashes! We have a Mentoring 1-on-1: One Day Workshop & Classic Eyelash Extension Application: Two Day Workshop.
Our Staff
OSF & Brows, where you will find a team of professionals passionate about helping women feel beautiful on a daily basis
Belinda Wellman
Co-Owner, Master Stylist
Licensed Esthetician
Founder of thelashrevolution.com
Trained in Classic & Volume Lash Application, Educator in Lash Extension Application
NALA ACCREDITED MEMBER
"Amazing things can happen when you dream big and spread your wings." Belinda started her career as a solo stylist and quickly realized her passion for precision and technique would pay off. She brings years of experience, countless hours of education and exceptional skill to the team. Advanced certifications in classic & volume extensions along with certification in Eye & Lash Health. Founder of The Lash Revolution, a place for lash professionals and entrepreneurs to learn and grow
Nicola Wellman
Co-Owner, Master Stylist
Bachelor's degree in Business
Licensed Esthetician
Trained in Classic & Volume Lash Application, Co Educator
What happens when you combine tenacity with a love for everything beauty? Well, you get Nicola! Nicola put her hard earned business degree into action when she teamed up with her mother to launch their very first business. Creating and designing is what she does best! Advanced certifications in classic & volume extensions. Always learning, always growing and always ready to help her client find their perfect lash look.
Lexi Harmer
Make-Up Artist, Lash & Brow Stylist
Licensed Cosmetologist
Trained in Classic & Volume Lash Application
Lexi brings excitement and a new type of artistry to the team! She has had an eye for enhancing others' beauty through make-up for years and truly loves making women feel empowered in their skin. With her skills, she brings confidence to people of all demographics and ages, using make-up appropriately and always with lash-friendly products and application. Make-up gave her an advantage when learning to lash and she LOVES creating a personalized look with extensions. Whether it's for a big event or your perfect everyday look- Lexi's creative techniques and skill will leave you feeling like your most beautiful you!
Denise Camberio
Lash Stylist, Expert Wax Technician
Trained in Classic & Volume
Application
Licensed Esthetician
Meet Denise, our newest addition to the OSF & Brow team. Denise bring 12 years of body waxing experience to our salon and has recently expanded her services to include lash extensions and brows. Lash services include classic & volume application. Whether you are looking for a precise and painless wax, beautifully applied lash extensions or brow shaping that completes your look, then Denise is the stylist for you.
Brianna Trevino
Licensed Tattoo Artist
Trained in Classic Lash Application
Brianna is a true brow specialist and permanent makeup artist. Her background in art, cosmetology and biology help to define a complete package when it comes to designing the perfect brow. She has grown up in the beauty industry, attended cosmetology school at the age of 17 and then studied pre-medical science in college. She loves the blend of precision, art and science and will always look for new and innovative approaches to beauty. Brianna will enhance your natural features to create a look that lifts the eyes and frames the lashes. Ready for a low maintenance approach to beauty? Ready to wake up with perfectly shaped brows? Then Brianna is who you need to see.
Angela Wellman
Receptionist
Angela shares a passion for helping women look and feel their very best. She is the friendly voice of OSF & Brows and is eager to help find your perfect stylist as well as secure your appointment. If you want to talk lashes or chat about your beloved furry pet, be sure to give her a call.